Saffron & Serai Beeswax Food Storage Bag Set
---
---

Product Description
---
Towards sustainable living and mindful consumption.

Brand: SAFFRON & SERAI

Unplug Eco-conscious Metric: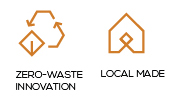 Our eco-friendly reusable beeswax food storage bag set are perfect for storage and carrying your snacks and lunch with you on the go. They are great for adults and kids. They work well as produce bags for your vegetable, fruits, grains and nuts on your trips to the grocery store. The top rolls down easily and simply folds up for storage. Because of its sturdy form it can also stand up and stay open for putting in and taking out items.
Benefits:
-Water resistant
-Easy to Clean
Material:
100% Cotton canvas
Natural Beeswax

Pine Resin

Jojoba Oil
Size:
2 Piece in a set
Large - 24cm x 34cm
Medium - 21 cm x 30cm
Cleaning:
Simply wipe to clean, or handwash with cold water and mild soap, rinse then air dry.

*Do not rinse in hot water.

*Do not leave in direct sun.

*Not suitable for raw meat and fish, hot or frozen food.
100% handmade and made in Malaysia