Indosole - Women Essntls Upcycle Slides (Shore/Natural Indigo Drips)
---
---

Product Description
---
Towards sustainable living and mindful consumption. Make it last with slow fashion.

Brand: INDOSOLE

*B-CORP Certified

Unplug Eco-conscious Metric: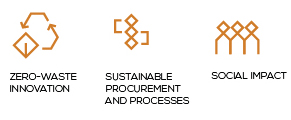 Zero-waste Innovation | Sustainable Procurement | Social Impact

You've been searching for the perfect, minimalist eco slides so stop looking because we've made it.

It's important for Indosole to always stay in touch and aligned with our core values. From design to the production phase. When designing SS20 collection, we wanted to team our recycled tire with a beautiful natural product.

The raw fabrics created at our natural dye house are unique and hold a special story.

They are naturally dyed using leaves from their home-grown backyard and a full circle is made when the excess water from dying returns back into the garden.

Made with natural rubber and naturally-dyed cotton uppers, these slides are not just stylish but also sustainable and perfect for every day.
+ Lightweight

+ Waterproof

+ Arch support

+ Anti-slip*

Made responsibly, the soles are the most durable you can find - made of 100% recycled tires that would have otherwise ended up in a landfill.