Indosole - Women Essntls Upcycle Cross (Light Soil)
---
---

Product Description
---
Towards sustainable living and mindful consumption. Make it last with slow fashion.

Brand: INDOSOLE

*B-CORP Certified

Unplug Eco-conscious Metric: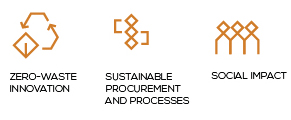 Been searching for the ultimate sandal that combines comfort, functionality, and style? Stop looking because we've made the Cross for you.

Inspired by the traditional Greek & Roman sandal, the Cross is a perfect blend of our core elements from the ESSNTLS range.

Made with natural rubber and vegan uppers, making them not just stylish but also sustainable and perfect for every day.

+ Comfort

+ Waterproof

+ Arch support

+ Anti-slip*

Made responsibly, the soles are the most durable you can find - made of 100% recycled tires that would have otherwise ended up in a landfill.
Specifications:
Recycled tire soles

Contoured natural rubber footbed

Embedded arch support

Waterproof

Comfortable ENVRO fiber strap lined with microfiber

Light and flexible at approx. 412g (14.5oz)

Made without animals or the use of fuel-powered machinery
Care:
So easy. Indosole's are 100% waterproof. Use natural soap and a brush and give them a good cleaning. Dry in the sun briefly or out of the sun also. They're quick drying.