HANDMADE SOY WAX CANDLE (170g) - SUMMER PEACH & MANGO
---

Product Description
---
Towards sustainable living and mindful consumption.

Brand: VELA CANDLE CO

Unplug Eco-conscious Metric: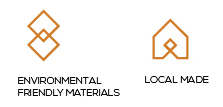 SUMMER PEACH AND MANGO (Handmade Soy Wax Wooden Wick 170g/6oz)

Our truly exciting scent of summer fun, mixed with your favourite stone fruits.
All our candles are handmade using only the finest ingredients: soy wax which burns cleaner, and wooden wicks which burns slower and creates a scent throw into your room, in less time.

Specification:

VELA Candle Co. 170g Hand Poured Soy Wax Scented Candle

Material: Soy Wax Candle using plant oils.

Wick: Wooden wick

Size: 170g

Burning Time: Approx. 30hours

Suitable for: Bedroom, Working Desk, Bathroom

Glass container with wooden cover