1 People - Wangari Maathai Silk Le Grand Scarf
---

Product Description
---
Towards sustainable living and mindful consumption. Make it last with slow fashion.

Brand: 1PEOPLE

Unplug Eco-conscious Metric: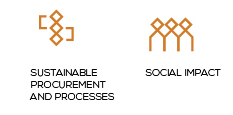 "Delicate and versatile, the Wangari – Le Grand Scarf is your go-to accessory. Fold it around your neck,or to cover your hair as a statement headpiece to feel empowered in anything you do, everywhere you go. Inspired by renowned environmentalist, political activist, and Nobel Prize winner - Wangari Maathai, an inspirational figure fighting in the name of Climate Change.
Details
- Illustration inspired by the green activist, Wangari Maathai
- Digitally printed
- Hand-rolled edges
- Square-shaped
- Measuring 95 cm x 95 cm
- This scarf comes with an elegant detachable recycled brass corner pendant
Materials
- 100% regenerated silk - A bluesign® certified luxurious mulberry silk fabric that brings positive environmental impact. Produced from regenerative farming methods, that achieve comprehensive and sustainable conservation of the atmosphere, water and soil
- OEKO-TEX® certified printing
Care Instruction
Hand wash in cold water with similar colours. Use mild soap. Do not bleach. Line dry in the shade. Warm Iron (IF NEEDED). Dry clean recommended."